Your poster lecture
General information
All lectures and poster lectures will be held exclusively in our virtual conference world.
The poster lecture videos can be played in the 'Poster' virtual room during the entire conference.
The poster lecture videos start automatically when selected, requiring previous recording.
The poster lecture videos will remain available after the conference until November 30th, 2020.
Meetyoo recording platform
The meetyoo platform is available for recording.
No software has to be installed on your computer. Access is provided by the internet browser of your choice.
Please do not use Internet Explorer, however, as it is not compatible with the platform.
Recording on the meetyoo platform is supported / managed online by WEKA Industriemedien GmbH (hereinafter referred to as 'WEKA'). It requires your registration for an admission date in the Doodle survey distributed.
If you are not satisfied with your recording, you may use the link provided until November 11th, 2020 to create and save a new recording without supervision.
Shortly before your recording date, WEKA will send you a link to the platform, a checklist for preparation and tips on recording your poster lecture.
Here you can watch a tutorial about the recording platform in advance.
A written webcast quick guide is available here.
Alternate recording platform
Of course, you can also record your poster lecture using any other tool.
In this case, it is important that you will send the mp4 video file (simultaneously showing poster and lecture) to meetyoo@industriemedien.at or upload it to our ownCloud (link) latest until November 11th, 2020.
Deadline
Self-recorded poster lecture videos need to be sent to WEKA Industriemedien GmbH (meetyoo@industriemedien.at or ownCloud) latest until November 11th, 2020.
If you are recording on the meetyoo platform, please also choose a version latest until November 11th, 2020.
Your poster lecture recording
The poster lecture video shall simultaneously show your poster and you as speaker.
Therefore, your poster has to be completed before the recording date and will be uploaded directly to the recording platform before the recordings starts. Subsequent changes of the poster is unfortunately not possible. You can only re-record the entire poster presentation again (without supervision).
The poster lecture video must not exceed 5 minutes.
The poster lecture videos will be automatically stopped /canceled online after 5 minutes have passed. We kindly ask for your understanding that we have to be strict. An online conference is only feasible if the specified times are strictly adhered to.
We therefore recommend controlling your poster lecture once the recording date.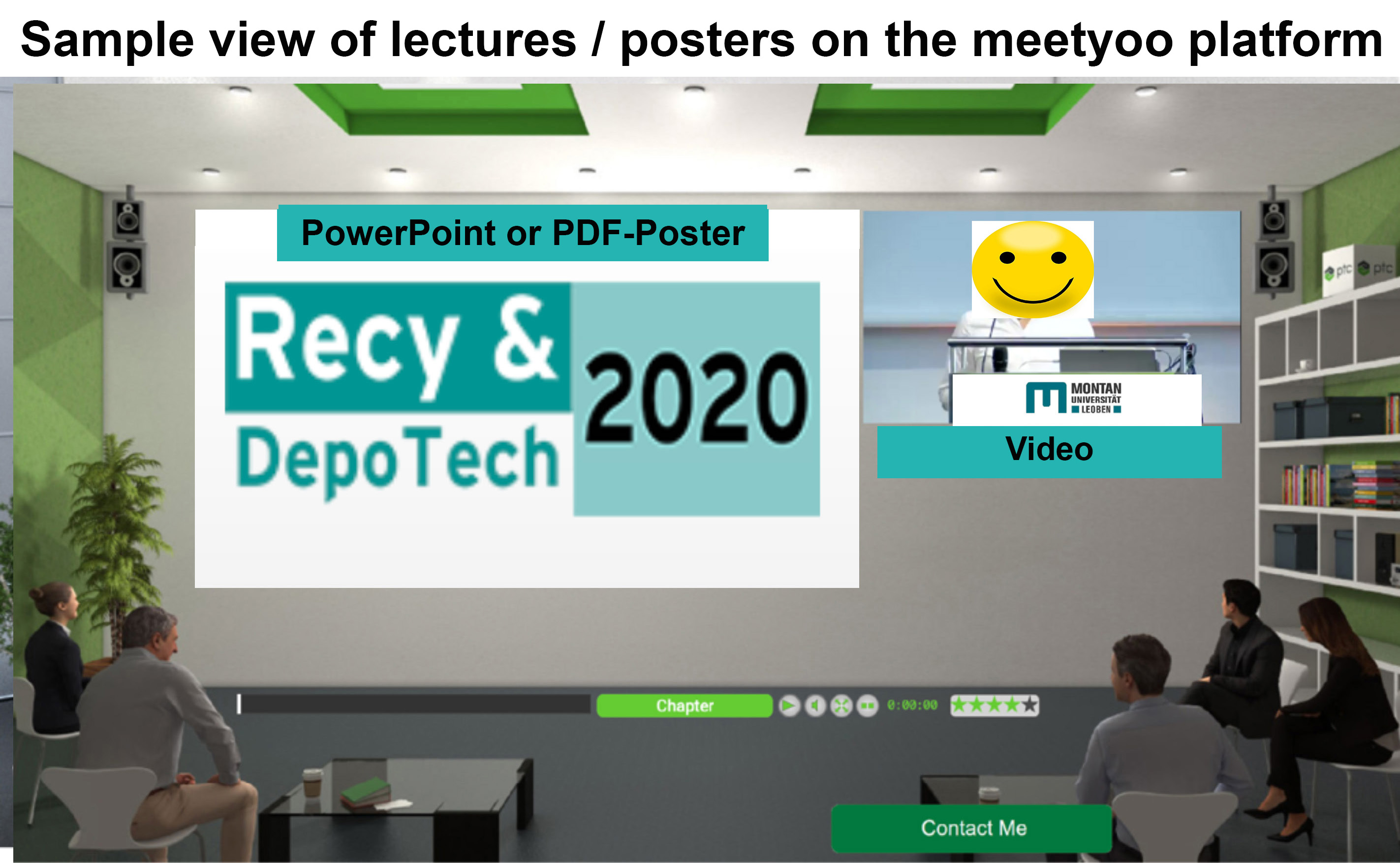 Tips for recording
Choose a 'neutral' background.
Record in a room or area that is as bright as possible or provide good lighting so that the video image will not look too dark.
Position your camera at eye level.
Make sure that the image frame is appropriately chosen.
For example, if you are a very active speaker, place yourself far away from the camera.
Before recording, check whether or not the microphone and camera are activated.
Avoid any background noise.
Speak loudly and not too quickly.
Tips on designing your poster
Please use A4 in portrait format for your poster.
The visual design of the poster is up to you.
Use a big enough format ('big is beautiful').
Light background colours support easier reading.
Avoid too detailed graphics (illegible – too small).
Instead, use enlarged sections.
Virtual conference world
Here you will find information and frequently asked questions regarding our virtual conference world in general.
If you have any general questions about your poster lecture, please, contact the organizer, Miss Tanja Trieb at info@recydepotech.at.
If you have any technical questions about the recording of your poster lecture, please send an email directly to WEKA Industriemedien GmbH - meetyoo@industriemedien.at.